---
Hypnotic Scripts
That Work
– The Breakthrough Book -
A Script Encyclopedia for Professional Hypnotists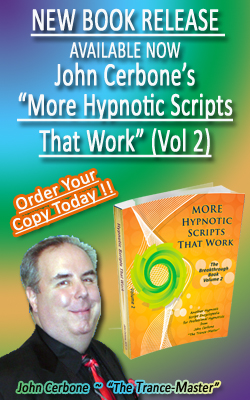 Volume 2 with data CD
= $79.95 + Shipping & Handling,
sent via US Postal Priority Mail.
Includes Computer Read/Print version on Data CD (Adobe PDF Format).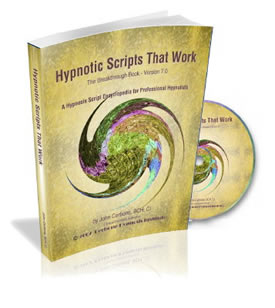 Volume 1 with data CD
= $89.95 + Shipping & Handling,
sent via US Postal Priority Mail.
Includes Computer Read/Print version on Data CD (Adobe PDF Format).
---
---
NOTE: Amazon.com Customers
Your book came from Amazon without the data CD.
You can order the CD separately for only $35.00.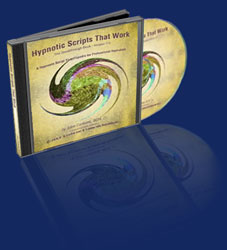 ---
This internationally acclaimed text features over 150 major hypnotic breakthrough suggestions and techniques that John personally researched and pioneered.
Each of these scripts have been successfully client tested and are now available to for you to use in your professional hypnosis practice!
This is the book my dear late friend and legend
Ormond McGill
, Dean of American Hypnotists, called, "A Wonderful, Wonderful Work!
Something every modern Hypnotist must have (for use) in their practice!"
Numerous leading Hypnotists from all over the World are praising this work, calling it the Gold Standard for its kind.
Ideal for both new and seasoned Hypnotists.
Includes effectual hypnotic suggestion breakthrough technique suggestion scripts and complementary medical hypnotic suggestion techniques for:
Bedtime / Days End Induction, Session Optimizing Suggestions 1 –62, Overcoming Fear of Travel and Agoraphobia, Anti-Anxiety Suggestions and Managing Panic Attacks, Healing Anger - Creating Forgiveness, You're About To Have A Breakthrough, Overcoming a Breakup and Succeeding at Taking the LSATS, Overcoming Claustrophobia Suggestions, Overcoming Clutter, Coping With A Snoring Mate - Better Rest, Managing Sadness (3), Free of Drinking Wine, Overcoming Driving Fears, Better Driving and Past Trauma Release...
Click Here to see even MORE included scripts!
---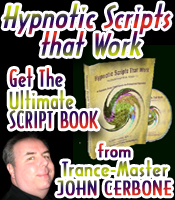 Customer Testimonials and Endorsements for "Hypnotic Scripts that Work"
A Wonderful, Wonderful Work!!! Something every modern Hypnotist must have (for use) in their practice!
Ormond McGill - The Dean of American Hypnotists - Palo Alto, CA
---
"This is a truly great book that clearly communicates the author's positive love for hypnosis and healing clients as well. A testimonial was written by Ormond McGill, and this book has to contain at least 150 complete hypnosis sessions for everything from multiple smoking cessation scripts to healing heart-break, pain management and just about anything you can think of.
I frequently print-out some scripts and bring them into sessions with me, and find that Mr. Cerbone is a script writer that can be trusted. If you are serious about Clinical Hypnosis, get this book!!!! I *really* do use it and so will you.
~ Richard K. Nongard, LMFT, CCH - ICBCH - Las Vegas, NV, HypnosisGurus.com
---
John Cerbone has created powerful scripts that bring your professional expertise into the 21st century.
Elsom Eldridge, Jr. - Winter Springs, FL
---
Hypnotic Scripts that Work by John Cerbone is a worthwhile addition to a hypnotist's collection of resources. Basically, this is a script book, however, unlike many such books, Cebone goes the extra distance and makes it very clear to readers that before using his scripts (and there are a LOT of them in this tome) they should read through them and adapt the language and suggestions to their own needs.
Cerbone has provided hypnotists with example scripts that fit a very wide range of hypnotherapy issues.
For me, I love scripts but never use them in my work. Rather, as I encourage my students and others, I look at scripts as models of how to apply a particular process to a certain situation and then I look for the underlying process beneath the language so that I can then apply that process to a wide number of situations. Cebone's book is a very nice resource for just such an approach.
ll the best,
Brian David Philips, Taipei, China
---
This book does what it says on the cover! It's concise, practical, modern approach is very easy to use and will appeal to both beginner and advanced. It is packed with well written and highly effective professional scripts (none of that archaic stuff you usually find) thus making it an extremely versatile and valuable resource. The author uses some very interesting metaphors and it is linguistically superb for those NLP guru's amongst you. Highly recommended and up to date - would be a very useful addition to any Hypnotist's collection!
~ Lady Elizabeth White
---
As a practicing Clinical Psychologist with a Certification in Clinical Hypnosis, I am always on the lookout for fascinating scripts to use with my patients. John Cerbone's "Hypnotic Scripts That Work" is exactly what the doctor ordered. The book is packed with scripts to cover virtually any issue I work with and my patients are thriving, thanks to my access to these scripts. Thanks a million, John.
John, WOW Thank you for all the information. I spent the evening reading some of the scripts from your book. I was practicing my voice while I was reading them out loud. Boy did they relax me.
~ Laura
---
"I have always enjoyed the fine hypnotic work of John Cerbone. His gift for finding a positive way to express suggestions is one I admire. You will not find a better source of ideas, wisdom and spiritually appropriate hypnotic techniques than what he has presented. His capacity to find a way to guide clients to make changes while giving positive personal reinforcement is one we should all strive to equal."
The Rev. C. Scot Giles, D.Min., BCC, BCH – Wheaton, IL
---
"John's script book is an invaluable tool that any Hypnotist, novice or veteran, can use. There are many gems in this publication."
Tom Vitale, CH – Valley Hypnosis Inc. – Methuen, MA
---
"John, I LOVE your new script book! It is OUTSTANDING! You have taken the boring one size fits all hypnotic script and TRANSFORMED it into an exact and precise tool. Like a Surgeon with a scalpel, you have hit right into the heart of the issues that face our clients in the office. I really like the diversity of topics and your precise wording technique to get those we help into the most resourceful state, helping fix the problems and issues that our clients face. I decided to buy the book and I now know how great it is to use!"
Richard Rumble, CH - 'Mister Hypnosis' - Dana Point, CA
---
Hi John,
Just received your book, DVD's with personal letter from you. You also took the time to sign my book and I want to thank you for it. Its great to see that you take the time to add something personal to your clients and it shows you care about your work.
I'm glad I ordered your products and I'm sure they will be of great help in my practice. By the way, I just preordered your Street Trance DVD (with the great Richard on it).
Now since I hypnotize people in french (my first language) as well as in English I'm gonna have to translate your patters but will do my best to keep their spirit.
Look forward to meeting you at a convention someday.
All the best,
Joffrey Lambert
Montreal Quebec Canada
---
"John, I have used your book and I am very happy with it. Thank you!"
Mary Frances Hernandez, CH - Traceform Your Life Hypnosis - Albuquerque, N.M.
---
"This is certainly one of the top script books I've ever seen! It's one of the very best! I would be very happy to recommend it. A marvelous job! It's wonderful! Good work!"
Jackie Sharp, CH - Inner Technologies Hypnosis - Salt Lake City, UT
---
"I had the opportunity to read a copy of your hypnosis script book, HYPNOTIC SCRIPTS THAT WORK - The Breakthrough Book.
I knew right away that I had come across something of value, something that can literally transform "the quality of life." Your method of suggestion creates a way for people to give themselves permission to live a more purposeful life while letting go of some of life's useless self-imposed restrictions. As a practicing Hypnotist and hypnosis instructor I have examined hundreds of scripts and on a few occasions I have recommend the better ones to my students to use as a model while practicing in the beginning to write their own scripts. I have found your scripts to be some of the most effective, comprehensive and practical ones on the market to date. They offer easy, clear, comprehensive, effective, fast and powerful ways to help the client release self-imposed limitations, thereby giving themselves necessary permission to live a more purposeful life, while enjoying a richer and fuller life experience in the process. Your scripts have the potential to literally change people's lives no matter what is triggering their problem. Keep up the good work I look forward for more of the same in the future.
Good luck and thanks for helping to make this world a better place for all of us."
E. C. Goldberg, C.I. - Serenity and Solutions - Brooklyn, NY
---
"I sense a great passion for your work and I believe that is a great thing to have in this world. I have really enjoyed your script book. It is well a written book and is certainly a resource worth having. Again, thank you for your contribution to the art and science of Hypnosis and to me."
Christopher R. Gross, CCH, LMT - Bryant, Arkansas
---
"It is my great pleasure to recommend Hypnotic Scripts that Work by my
colleague John Cerbone. The book is filled with many useful scripts which will keep the average hypnotists referring to it again and again, and I highly recommend it."
Lawrence Galante, Ph.D., DHom, CH., Director: The Center for Holistic Arts – New York City
---
"I bought your book, hypnotic scripts that work, at the NGH Convention, this weekend and had to drop you a note. I am a clinical hypnotist is in the Bourse in area and take great care with every word in my sessions and until I saw your book I always found reasons to edit every script I see. I picked up your book with skepticism telling myself I would put it back When I saw the first edit I would make and I am still reading. Outstanding work! This is the best hypnotic script book I have ever seen!"
Paul Gustafson, RN, BSN, CH - Healthy Hypnosis – Boston, MA
---
"John Cerbone's script are the best available. They flow like liquid poetry and are wonderfully effective. Each collection matches or exceeds the one before. These are a must have in any Hypnotist's office."
Norman H. Posner, CI, CH - Owner/Director, The Reducing Key-Hypnosis Center - Baltimore, MD
---
By Divine Reason, Diving Purpose and Divine Time, I have been blessed with the priceless opportunity to learn the mind blowing, uncontested techniques that John Cerbone has taught me. I'm really hoping that John has training, or at least workshops at the next two National Guild of Hypnotists Conventions. We, Hypnotists, are very fortunate to have the incredible talent, skills and teachings that John enriches us with. I highly recommend John Cerbone's book, Hypnotic Scripts That Work – The Breakthrough Book and workshops to anyone who wants optimal success with clients.
Jason Hughes, CH, Positive Changes Hypnosis Center - Sacramento, CA
---
John, I write to congratulate you on your book, HYPNOTIC SCRIPTS THAT WORK " The Breakthrough Book. As a Clinical HynoAnalyst / Psychotherapist, I have many so called books of scripts, but what you have produced here has a hallmark of excellence. It is not for the shelf, It is for good clinical use [which I have had great success with so far]the other books are for the shelf. Well done on such a comprehensive, well structured and useful book which has become my clinical Bible.
James A. Malone, Dip.Hyp.D.Psych [Master N.L.P. Practitioner] MICHP, Dublin, Ireland
---
Hi John, I purchased your book, Hypnotic Scripts That Work last summer, and I have to tell you that I use it constantly. There is absolutely no other book of scripts and/or suggestions that I use nearly as much as I use yours. I have to say that I am grateful to Paul G. for letting me know about your book in the first place. I've only been practicing Hypnosis for a short time, and in that time, I've reached for your book over and over again. We spoke on the phone when I ordered the book, and I was impressed with your kindness and willingness to share thoughts and information with me. I meant to contact you before this, but time has a way of passing far too quickly. I am now actively doing business as Sensible Hypnosis. I can't tell you how happy I am to have your book to reach for when I need inspiration and/or good, solid suggestions. I just thought you should know that your book has been a wonderful resource for me, and I'm truly grateful to have it. Also, please let me know when you'll be performing in the Boston area. I'd love to see your show. Thanks again so much. Sincerely,
Kim Stephenson - C.H. - Sensible Hypnosis, Arlington, MA
---
Hypnotic Scripts That Work – The Breakthrough Book is an OUTSTANDING book, with Hypnotic scripts that can be adjusted to suit the clients needs.
A book you can refer to again and again, a must have – get this book!
Sean P Hammond, CI - United Kingdom
---
John, I enjoyed meeting at the NGH. Thanks for the note, and thank you very, very much for the script book. It is awesome! The scripts are on target, very thorough and cathartic. The manner in which you weave words expresses not only your talents, gifts and hard work, but also your love for the mission of improving lives and the deep caring for those blessed and healed by your words! Keep sharing your gifts.
With warm regards, Kathleen Peters, LMFT, CH - Owensboro, Kentucky
---
A wealth of information, on every subject, presented in caring and supportive language that clearly helps people overcome their issues. Bravo John!"
Susan Gale, CH - New Behavior Institute - New York, N.Y.
---
John, I must say, I felt silly for not using your scripts before, I tend to do longer sessions, content matters and your scripts are easy to customize on the fly while doing sessions. Great work, keep it going.
Daniel Rose, Montville NJ
---
Hi John, Your script book is comprehensive and thorough, and it is obvious that you have many hundreds (if not thousands) of hours invested in your scripts. I especially like the one: "You're About to Have a Breakthrough." It is a masterpiece of indirect suggestion allowing the client's inner mind to decide what to change. Your scripts are far better than many I've seen over the years; and I especially like the way you include suggestions of empowerment.
Best wishes, Roy Hunter, CH - www.royhunter.com
---
I definitely refer to this book for ideas. I like the energy that comes through in your writing. The suggestions are written in a compelling and positive tone. It's very good work.
PATRICK BOWE, CH - Providence Hypnosis Center, Providence, Rhode Island
---
If you ever had the privilege of meeting John Cerbone you would soon realize that he has a personality that's unforgettable. In "Hypnotic Scripts that Work' John has managed to infuse his unique personality into his writing. John provides an imaginative source of scripts that cover the most commonly encountered issues: Overcoming a Break-up, Overcoming Panic, Managing Sadness, Overcoming Fear, Perfecting Golf, Overcoming Insomnia, Learning Enhancement, Motivation, Stop Smoking, Weight Management etc. 'Hypnotic Script that work' is an impeccably organized manual containing a vast selection of hypnosis scripts. They have been successfully used and refined during John's years of work in the field of clinical hypnosis. I particularly like the session optimizing suggestions. The publication is solely and strictly intended for use only by professional hypnotists and professionals in related fields.
John's never ceases to expand this work as he continues to update its content annually. The provision of a CD that contains the book in PDF format is a great bonus. It presents the user with the choice to use a script as printed or alter it to fit a clients particular needs or the hypnotists own unique style. When you purchase HSTW and subscribe to John's mailing list you receive the annual updates by email. This is an expression of John's gratitude for purchasing his work and his commitment to successful hypnosis sessions for the user.
I congratulate John on producing this work and highly recommend "Hypnotic Scripts that Work". It would come as no surprise if this publication rapidly becomes the most commonly used resource for hypnotists.
Wishing you continued success.
Sincerely, Martin Kiely, BCH, CI - Cork City, Ireland
---
"Since owning John's book, it has become a well worn friend. Entire pages are cut out ... highlighter, underlines, additions and strikeouts. When I am at a loss for words, John is not and so I pull out 'old faithful'. In other words, I 'Cerbone' 'em. Thanks Trance-Master for doing so much good".
Linda Warsh, C.H. - Hypnosis for Health Toronto, Ontario, Canada
---
---