Volume 2 with data CD
= $79.95 + Shipping & Handling,
sent via US Postal Priority Mail.
These client tested scripts represent the next generation of hypnosis, written and designed to generate client breakthroughs. This book is changing lives world-wide, now in use on 6 continents.
All original professionally written and designed hypnotic scripts in this volume cover area including, Overcoming Anxiety, Fear and Panic, Health and Well Being,  a wide variety of Personal Development and Relationship issues, including overcoming break-up and moving on and an Expanded List of Session Optimizing suggestions
Special Bonus — Includes Emailed PDF Read/Print version (Adobe PDF Format).

Select Ordering Preferences
——————-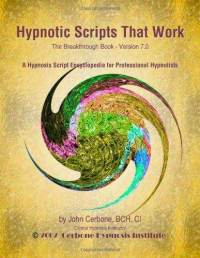 Hypnotic Scripts  That Work – The Breakthrough Book –
A Script Encyclopedia for Professional Hypnotists
This internationally acclaimed best-selling text features over 150 major hypnotic breakthrough suggestions and techniques that John personally researched and pioneered.
Each of these scripts have been successfully client tested and are now available to for you to use in your professional hypnosis practice!
This is the book my dear late friend and legend Ormond McGill, Dean of American Hypnotists, called, "A Wonderful, Wonderful Work!
Something every modern Hypnotist must have (for use) in their practice!"
Numerous leading Hypnotists from all over the World are praising this work, calling it the Gold Standard for its kind.
Ideal for both new and seasoned Hypnotists.
Includes effectual hypnotic suggestion breakthrough technique suggestion scripts and complementary medical hypnotic suggestion techniques for:
Bedtime / Days End Induction, Session Optimizing Suggestions 1 –62, Overcoming Fear of Travel and Agoraphobia, Anti-Anxiety Suggestions and Managing Panic Attacks, Healing Anger – Creating Forgiveness, You're About To Have A Breakthrough, Overcoming a Breakup and Succeeding at Taking the LSATS, Overcoming Claustrophobia Suggestions, Overcoming Clutter, Coping With A Snoring Mate – Better Rest, Managing Sadness (3), Free of Drinking Wine, Overcoming Driving Fears, Better Driving and Past Trauma Release…